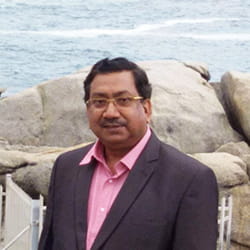 Dr. G. B. Das, M.D, FICS, FICOG
Gynaecologist and Obstetrician
Director - Ramkrishna Seva Sadan and New Ramkrishna Seva Sadan
One of the leading gynaecologists in Siliguri, Dr. G B Das has a long list of clientele that involves celebrities, models and even international patients. He treats patients with dedication and precision and guides them to undergo procedures.
---
---
Gynecology is the branch of drugs that deals with the health of the reproductive system of women from their childbearing to menopausal ages. It includes the overall health and ailments related to the vagina, uterus, ovaries, fallopian tubes and even the breasts. Literally, within the common man's world, it's also referred to as "the science of women" or woman's doctor. Consult the best gynecologist in Siliguri for a regsular check-up.
What does a gynecologist do?
gynecologists are the doctors who specialize in the branch of medicine concerning women's problems and that they are committed to getting their specialise in the look after the entire patient, with particular emphasis on the reproductive system of females including routine primary and preventive care, pregnancy and delivery, menopause, and medical or surgical management of all gynecological difficulties. The best gynecologist in Siliguri provides a full range of general gynecologic treatment for ladies, from yearly examinations and screenings to highly specialized methods. Comprehensive gynecologic problems include abnormal bleeding, chronic pelvic pain, uterine fibroids, endometriosis, loss of bladder control, pelvic floor disorders, problems with pelvic support and contraceptive counselling.

Common treatments by the best gynecologist in SIliguri
Certain common gynaecological issues form an integral part of gynaecological practice and woman health care.
Irregular Menstruation (heavy bleeding, prolonged periods), Pregnancy
Menopause
Premenstrual Syndrome (PMS)
Urinary tract infection
Vaginal yeast infection
Pre-cancerous and cancerous abnormalities
Sexually-transmitted diseases
Gynecology is that the only field of drugs that's a fusion of both surgical also as practice and briefly, maybe a "One-Step" solution to all or any women issues.
Treatments for the gynecological issues
The surgical services offered by the best gynecologist in North Bengal range from Hysterectomies, Pelvic organ prolapse surgeries, tubal ligations, oophorectomies, cystectomies, endometriosis management, and lots of more associated with vulval and vaginal diseases. Both laparoscopic and open procedures are undertaken counting on the case.
Finding the best gynecologist in Siliguri
New RamkrishnaSevaSadan offers a good array of inpatient and outpatient gynecological services. The services available here transcend the requirements and needs of women and ladies, ranging from their teen years, through pregnancy and menopause. Our clinic comprises the highest listed gynecologist of Siliguri. We even have specialised trained nurses and have the newest equipment to affect Obstetric emergencies, high-risk pregnancies and premature babies.